COSTI ANNOUNCES AWARDS RECIPIENTS IN CELEBRATION OF 65TH ANNIVERSARY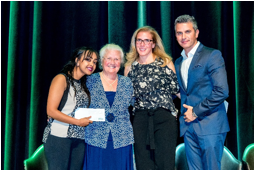 Award Recipient Afrah Hassen with Maria Corvetti, Christine Prez and Christopher Corvetti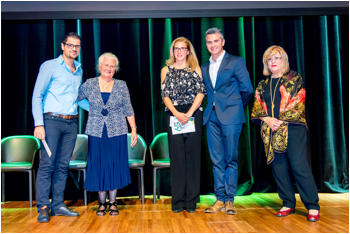 Award Recipient Khajag Papazian with Maria Corvetti, Christine Prez and Christopher Corvetti with Vice President Vittoria Adhami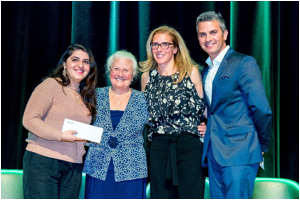 Award Recipient Annie Sahagian with Maria Corvetti, Christine Prez and Christopher Corvetti
Panfilo Corvetti, Director of Education at COSTI, passed away on March 29, 2001. COSTI meant a lot to Panfilo and Panfilo had an impact on COSTI and its staff. His 34 years at COSTI left us with more than memories, he left a legacy of important services to the community.
Panfilo started his work at COSTI as a teacher and then went on to develop COSTI's education and employment programs. Whether Panfilo was creating new ideas or whether he was drawing them from others, he made them happen by bringing people together and drawing the best from them.
To honour Panfilo and his legacy, his family and friends established the Corvetti Academic Scholarship Fund to support deserving young students.
At COSTI's 65th Anniversary Celebration held on October 26th, COSTI was honoured to have Panfilo's widow Maria Corvetti and his children, Christine and Christopher present at the event to recognize the first three award recipients of the Corvetti Academic Scholarship Fund.
Award Recipient Khajag Papazian a Syrian Refugee from Aleppo and has been in Canada for two years. He is studying Mechanical Engineering at Ryerson University.
Khajag is working very hard to continue his education and has already made the Dean's List – quite an accomplishment! Having lost his father three years ago, his family is now trying to build a new life in Canada. He and his brother both work to support the family and to survive financially. It's difficult to juggle between studying full-time and working to support the family. We are hoping that the Scholarship will help ease the stress currently on his shoulders.
Award Recipient Annie Sahagian is a student in the Life Sciences Program at the University of Toronto majoring in Human Biology. She hopes to work as a healthcare professional once she completes her education.
Annie is from Syria and has been in Canada for just under two years. One of her siblings already attends post secondary school. Her parents work in survival jobs and provide for four children. Under these circumstances, it's difficult for the family to pay for tuition for two children. Annie believes that more important than an education is to become a better human being, to help people in need, teach others, and give back to the community.
Award Recipient Afrah Hassen has only been in Canada for five months. She is a refugee from Eritrea and is studying at York University in the Atmospheric and Earth Science Program. Afrah is here in Canada with her sister. Afrah shared her experience with guests at the 65th Anniversary Celebration.
"I would like to thank COSTI's Board of Directors and the Corvetti family for selecting me as one of the first recipients of the Corvetti Academic Scholarship.
When I was first told that I was selected as one of the recipients of the scholarship, I wanted to know more about who the scholarship was named after and why. I was amazed to hear about the challenges faced by Mr. Corvetti and his own struggles in securing employment as an immigrant to Canada.
I left Eritrea for Egypt because of political reasons and knew in my heart that Canada was the country where I could be safe, reach for the stars, make by dreams come true and graduate in my field of education. Even now I am uncomfortable in shared why I left. I wanted to come to a country where you were not obligated to work for the government in a job that they selected for you. I wanted to come to a country where education meant freedom and success, freedom to work anywhere you want and receive a salary that equalled your worth – something that I could have never achieved in Eritrea.
I live with my sister who came to Canada 10 years ago. Unfortunately, her time here has not been all positive and recently underwent brain surgery. Every morning we enjoy a meal together before I go to class and every night when I return to our apartment, we make dinner and eat together before I begin my studies. She inspires me, she encourages me. My sister is a motivation for me to do well at school and excel! My success is her success! Once I have finished school I will be able to help others who are experiencing difficulties in their lives, just like me.
COSTI was my first home in Canada and Ontario. When I was sent from the airport to COSTI's Ralph Chiodo Family Immigrant Reception Centre, I said to myself 'today I started living, I start my life today.' COSTI and my Welcome Group helped me through the first few months – from informing of my rights and responsibilities in Canada to helping me fill out my application for university. I want to be like everyone I have met and helped me – the person who welcomes a newcomer to Ontario by making them feel at home.
I am lucky to have had COSTI enter my life and I am honoured to receive this award named after an immigrant who struggled, achieved success and built a life here for him, his wife and his children. Mr. Corvetti's dream became a reality just as my dream is becoming a reality today, by getting an opportunity to continue my education and to build a life for myself and my sister, who continues to inspire me every day."