OVER 600 COSTI CLIENTS RECEIVE NEW WINTER COATS THROUGH QUAKER #WARMWELCOME CAMPAIGN.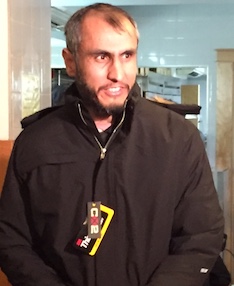 Mohammed, a COSTI client from Afghanistan, recently received a winter coat as he prepares for his first winter in Canada. "I was worried because it's my first time in Canada. I heard it gets to minus 10, but I'm sure I will be very comfortable with the coat. Thank you to Quaker and to all Canadians who supported the campaign!"
COSTI's Executive Director, Mario J. Calla handed out the donated coats to COSTI clients in late November, each accompanied by a welcome note from Quaker employees. "Quaker has a long history of supporting local communities and those in need. It's heartwarming to see the gratitude on the faces of so many families as they try on the coats, particularly the children. We've handed out hats, mitts, scarves and other winter wear in the past, but it's the first time we've been able to hand out large numbers of winter coats."
The goal of the Quaker campaign was to raise over $350,000 to help provide over 7,000 coats to newcomers in-need - and they did it! $.05 of every specially marked pack of Quaker instant oatmeal and chewy granola bars, was donated towards the purchase of a warm coat for a newcomer in-need.
Quaker partnered with Brands for Canada for the distribution of over 7,000 coats across Canada! To find more about Quaker and the Warm Welcome program, visit Quaker now.